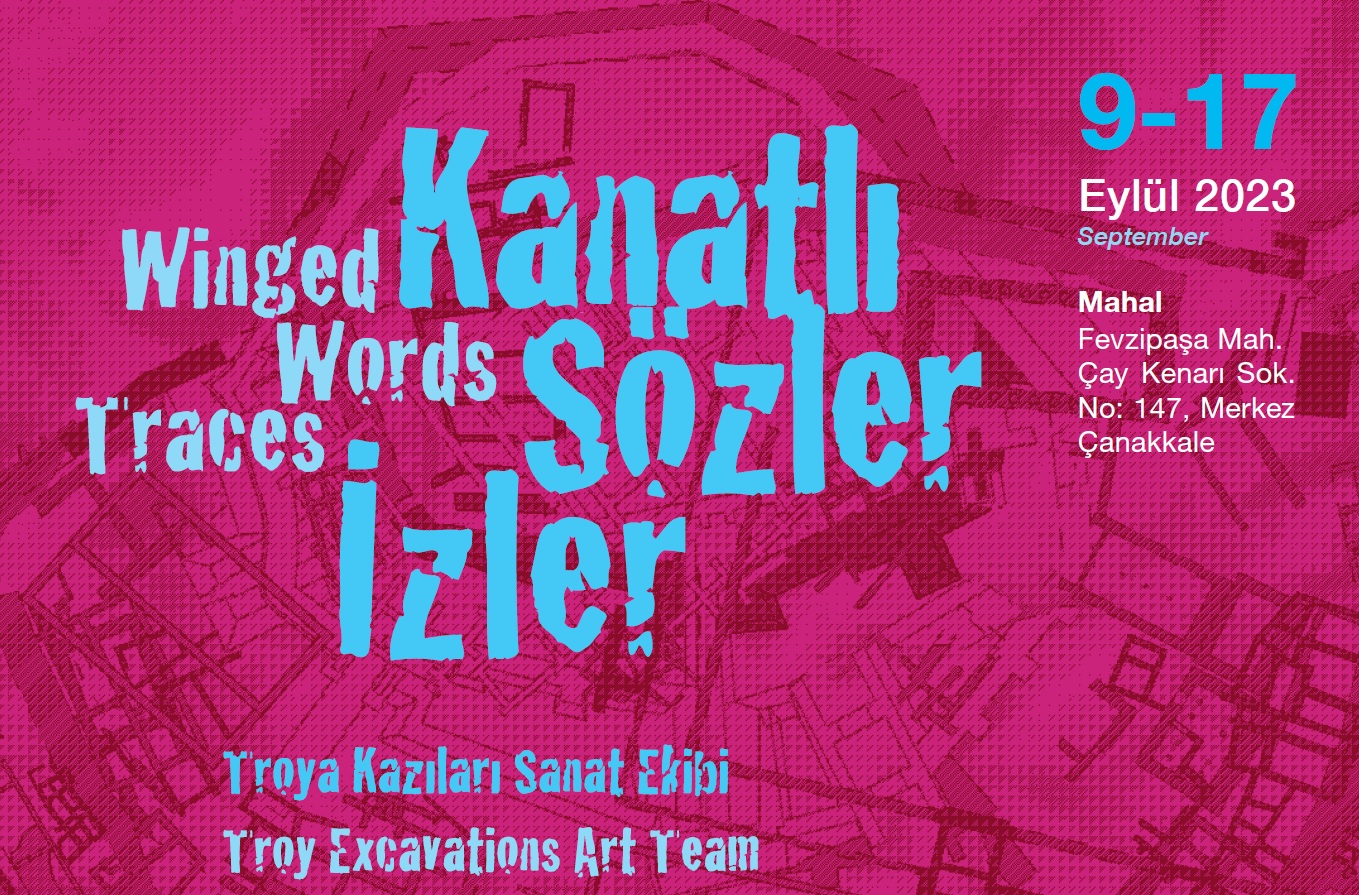 Winged Words / Traces Exhibition at MAHAL
The exhibition "Winged Words / Traces", which brings together the current productions of 12 artists working in different art branches inspired by the Troy Excavations, can be visited at Mahal between September 9-17 as part of the Troy Cultural Route Festival.
The Troy Excavations Art Team, which aims to build a bridge between Troy, an Anatolian civilization and the homeland of a universal legend, and contemporary culture through art, has left 4 years behind. Accompanying the archaeological excavations in Troy every year, which intersect with different disciplines such as museology and geography, the artists shape their productions based on their experiences in Troy. The 2023 outputs of these productions, which add new conceptual, aesthetic, poetic, visual and aural layers to Troy, were brought together in the exhibition "Winged Words / Traces". In addition to textile, glass, painting, photography, video and graphic design works, the collective art productions of recent excavation workers will also meet art lovers for the first time in this exhibition.
Featuring the works of artists Erdal Sezer, Helin Sude Boztepe, İlkan Devrim Dinç, Mehmet Erim, Mert Karaçıkay, Oğuz Tunç, Özge Usluca, Saygın Mavinil, Şeyma Bil, Uğur Mete, Ülkü Sönmez and Semra Çam who live and work in Çanakkale, "Winged Words / Traces" exhibition is curated by Deniz Erbaş, while Prof. Dr. Rüstem Aslan and Assoc. Prof. Seyhan Boztepe are the scientific and artistic advisors.
Today, many archaeological museums and archaeological sites around the world rely on artistic productions to connect their collections and stories with us. With references from today's aesthetic and conceptual world, narratives from ages ago are deciphered and new layers of meaning are created. The Troy Excavations Art Team aims to create new experiences and impressions at the intersection of archaeology and art while reuniting Troy with today and Anatolian people.