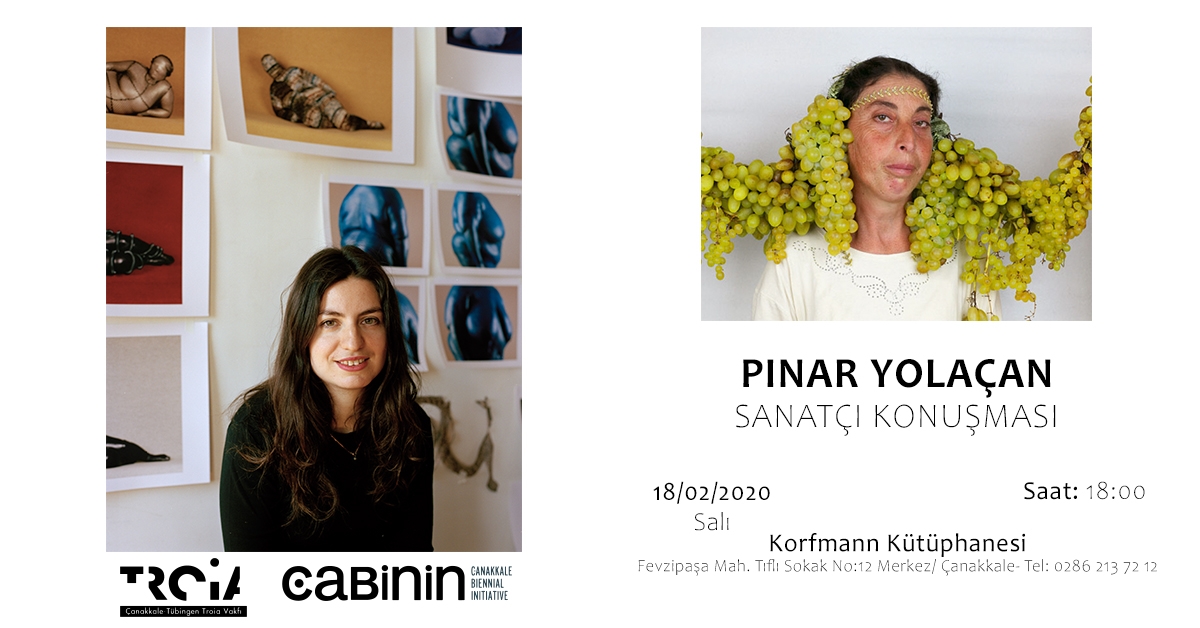 Pınar Yolaçan Artist Talk
Pınar Yolaçan's IDA series (2008, Çanakkale) that has been exhibited in the Museum of Troy during the 6th Çanakkale Biennial is on display in Korfmann Library. On this occasion, Yolaçan has given an artists talk in Korfmann Library.
Pınar Yolaçan, who studied fashion and then visual arts in the USA, produces photo series and videos that focus on the female body and image. In his presentation at the Korfmann Library, the artist made a detailed presentation on her Ida and Mother Goddess series, which are inspired by the archaeological accumulation of Çanakkale and Anatolian geography. She illustrated how Aphrodisias and Troy mythology, visual materials such as the pre-Neolithic cultures and abstractions of Mesopotamia and Anatolia have inspired her.
This is how Yolaçan describes IDA series on display at Korfmann Library: "Ida was shot in Çanakkale, Turkey. For this project, I casted 113 women from 12 villages around Çanakkale and I shot 25 women. These villages are within the borders of the ancient city of Troy (Yukarikoy, Elmacik, Denizgorundu, Akpinar, Caldag, Kursunlu, Mollasanlar, Tevfikiye, Yapildak, Cetmi, Akkoy, Kosuburnu)
I have also gone to villages near the Mount Ida, also within the Trojan borders, where the first beauty contest took place in mythology. The project takes its name from this mountain, which also means Mother Goddess.
The series is influenced by the marble frieze's I saw at Aphrodisias, depicting women's faces adorned with garlands of fruits and leaves. In the series Ida, I tried to recreate these Frieze's by using women who currently live in the Dardanelles where most Roman ruins are found. I adorned them with garlands and headpieces made out of real grapes.
The Roman sculpture tradition, and the works of art that were produced there which were sent everywhere in the Roman Empire, were in fact made in this geography. The faces that influenced the people who laid the foundations of Western art history and established the conventions of aesthetics and beauty were inspired by these very same female faces who lived in this geography. That's why I was interested to photograph them."
Pınar Yolaçan is born in Ankara, Turkey in 1981. She studied fashion at Central Saint Martins College of Art and Design and Fine Art Media in Chelsea School of Art before graduating from The Cooper Union with a BFA in 2004. Yolacan had solo shows at Rivington Arms Gallery in New York, Yapi Kredi Foundation in Istanbul, Finnish Museum of Photography in Helsinki and Center for Contemporary Art in Lagos. Her work was included in important group shows such as State of the Art Photography, NRW-Forum, Dusseldorf, Vanitas; Fashion and Art, Bass Museum of Art, Miami, Rites of Spring, Contemporary Art Museum Houston, The Third ICP Triennial of Photography and Video, International Center of Photography, New York, Istanbul Next Wave: Istanbul Modern Collection at Martin-Gropius-Bau, Berlin, Greater New York, MoMA PS1, NY, Second Changjiang Photography and Video Biennial, Chongqing Changjiang Museum of Contemporary Art, Chongqing and Expanded Geographies, Lianzhou Photo Festival 2015, Lianzhou. Her work was included in the book The Portrait Now published by the National Portrait Gallery in London. Since 1997, reviews about her work regularly appeared in The New York Times, Art in America, ArtReview, Bidoun, Dutch, Rolling Stone and i-D magazines. Yolacan's work is in the permanent collections of The Getty Museum, Museum of Fine Art, Boston, KIASMA Museum of Contemporary Art, Helsinki and International Center of Photography in New York. Yolacan lives and works in Brooklyn, New York.