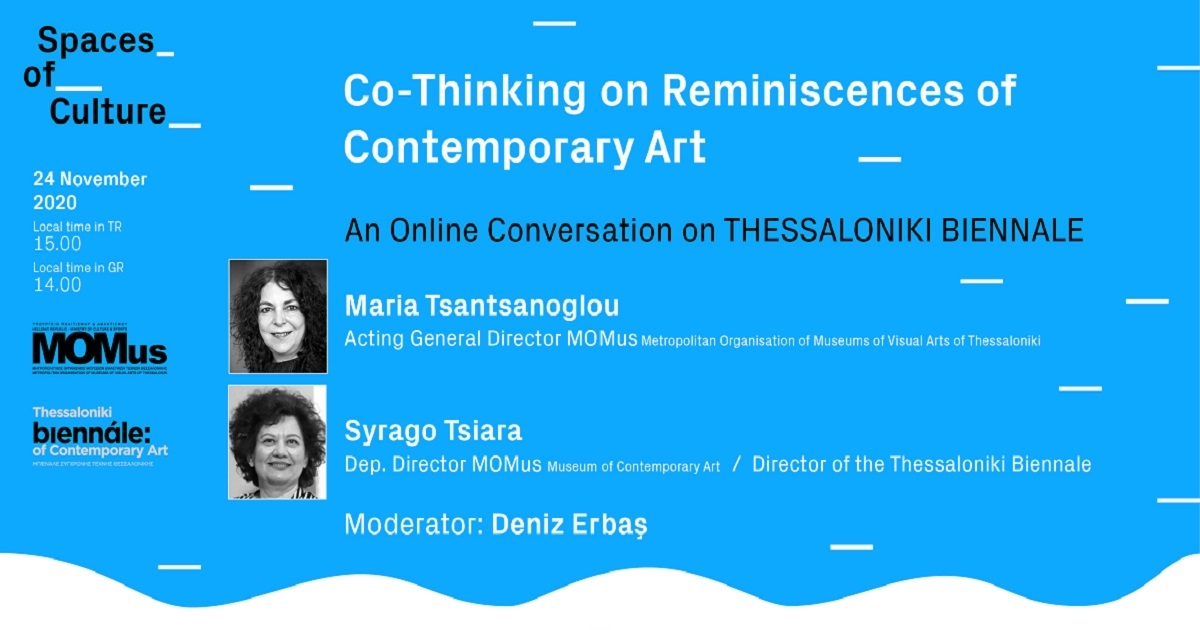 An Online Conversation on THESSALONIKI BIENNALE
The joint Project of PortIzmir and Çanakkale Biennial entitled "Co-Thinking on Reminiscences of Contemporary Art" organised a second online conversation with a special panel on Thessaloniki Biennale. K2 Contemporary Art Association and Çanakkale Biennial Initiative CABININ, which have strengthened their cooperation within the scope of different projects in recent years, are bringing to the public realm the first steps of Co-Thinking on Reminiscences of Contemporary Art with the support of Spaces of Culture.
Maria Tsantsanoglou (Acting General Director of MOMus) and Syrago Tsiara (Dep. Director of MOMus and Director of the Thessaloniki Biennale), on a live conversation hosted by Deniz Erbaş, made presentations about the process, memory and heritage of the Thessaloniki Biennale as an important and sustaining international contemporary art event on the same cultural geography of Izmir and Çanakkale.
The Thessaloniki Contemporary Art Biennale started in 2007 as an initiative of the State Museum of Contemporary Art and will have its 8th edition in 2021. Since 2019 it is being organised by MOMus-Museum of Contemporary Art with the collaboration of several cultural organisations of Thessaloniki.
With a month-long program comprising of exhibitions bringing out selections from the artworks inspired by these cities and produced within the scope of the Portİzmir and Çanakkale Biennials, as well as interviews and panels that bring together different institutions and experts of the field, the aim is to create an inspiring context about the sustainability of the reminiscences of the contemporary art practices. In the context of the current pandemic conditions, as well as under the effect of the earthquake that occurred in Izmir recently all exhibitions and panels are organised online.