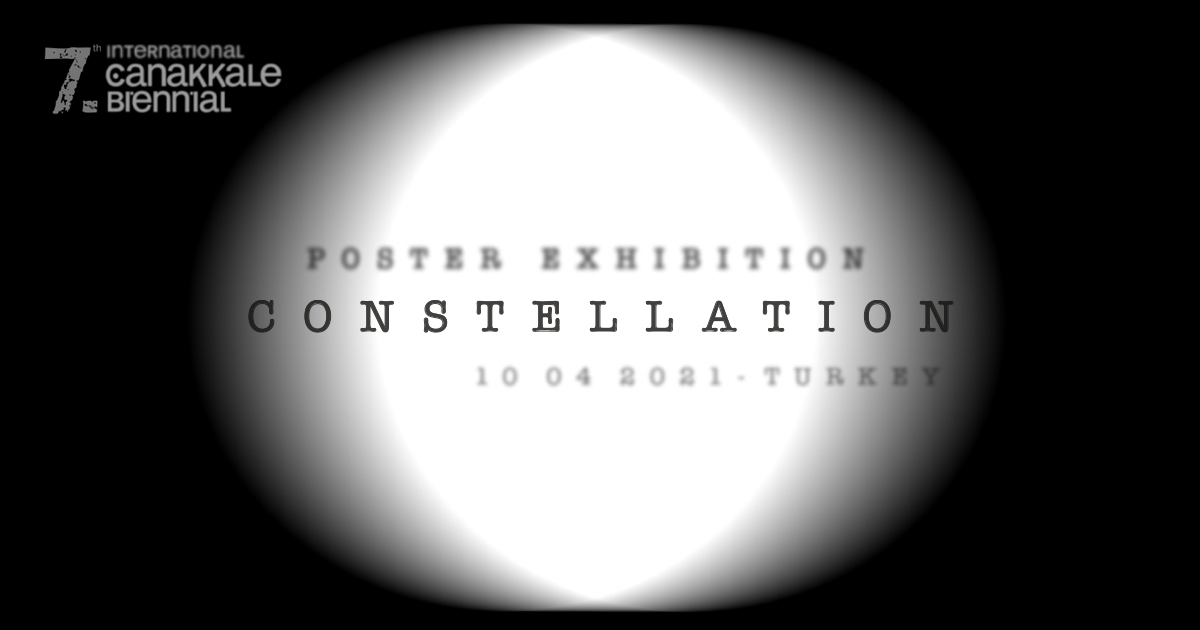 Constellation - International Poster Exhibition
In the framework of the special program of the 7th Çanakkale Biennial, designers were invited to reflect on the title and conceptual framework of "constellation". This poster exhibition brings together the works of 45 designers from all over the world.
We would like to thank them all for their contributions!
Project Manager & Curator: Didem Çatal
Organization Committee: Didem Çatal, Seyhan Boztepe, Deniz Erbaş, Kaan Kaya
Biennial Director: Seyhan Boztepe
Art Committee: Agnieszka Ziemiszewska, Byoung II Sun, Felipe Jácome López, Christopher Scott, Hatice Pektaş Öz, Irwan Harnoko, Amir Hosseinzadeh, Seyhan Boztepe, Didem Çatal
Participants: Agnieszka Ziemiszewska (Poland), Al Naim Arafat (Jordan), Ali Can Metin (Turkey), Ali Tomak (Turkey), Amir Hosseinzadeh (Iran), Anna Black (Ukraine), Byoung II Sun (South Korea), Chia Hsiang Lee (Taiwan), Chikako Oguma (Japan), Christopher Han (South Korea), Christopher Scott (Ecuador), Davit Eduardo (Uruguay), Deniz Kürşad (Turkey), Didem Çatal (Turkey), Doğan Arslan (Turkey), Erin Wrigh (USA), Felipe Jácome (Ecuador), Gyula Molnár (Hungary), Irwan Harnoko (Indonesia), İlkan Devrim Dinç (Denmark), Jorge Gonzalez Morales (Mexico), Kaan Kaya (Turkey), Keith Kitz (USA), Kye-Soo Myung (South Korea), Luis Yañez (Mexico), Martin Mendelsberg (USA), Mehmet Ferruh Haşıoğlu (Turkey), Miura Hitoshi (Japan), Mohammad Afshar (Iran), Naufan Noordyanto (Indonesia), Nicos Terzis (Sweden), Oğuz Tunç (Turkey), Oktay Barkın (Turkey), Olga Severina (USA), Orhan Ardahanlı (Turkey), Orhun Türker (Turkey), Özlem Uyan (Turkey), Patrycja Longawa (Poland), Resul Ay (Turkey), Rikke Hansen (Denmark), Seda Atasoy (Turkey), Serap Yakut (Turkey), Seyhan Boztepe (Turkey), Sha Feng (China), Yusuf Keş (Turkey)