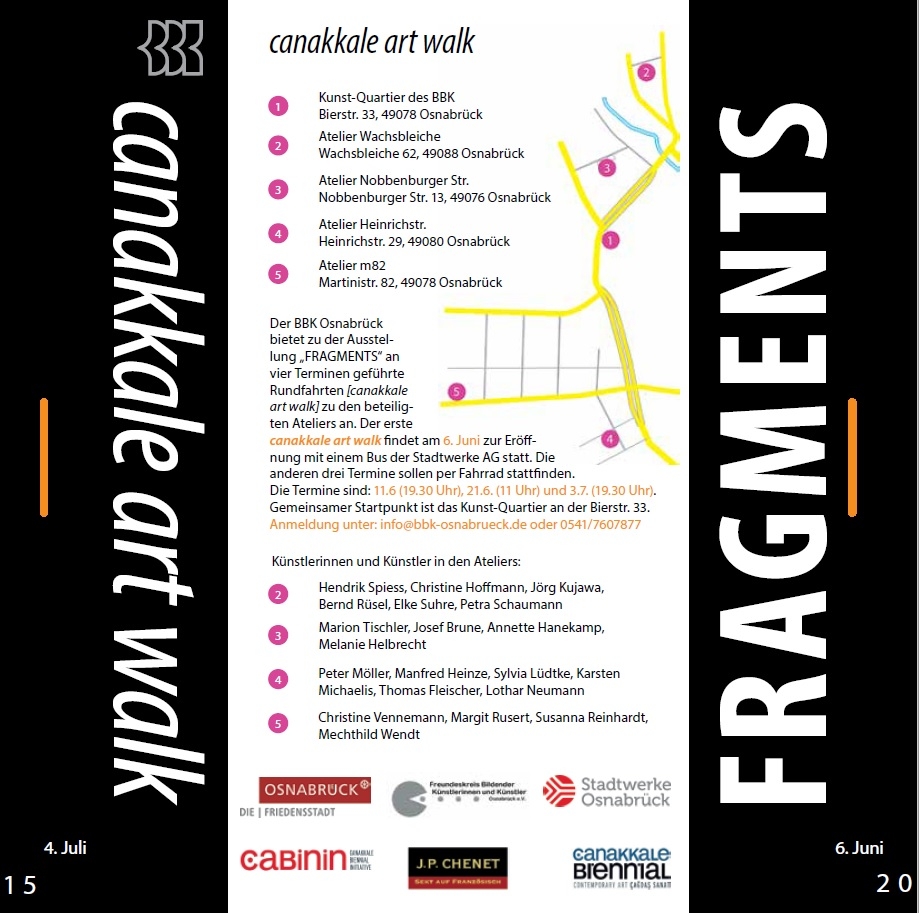 Çanakkale-Osnabrück ArtWalk 2015 // ÇANAKKALE BIENNIEL: Fragments
07 June - 04 July 2015
Artists: Yeşim Ağaoğlu (Istanbul), Nikita Alexeev (Moskov), Yeni Anıt (Mardin-Istanbul), Nigol Bezjian (Beirut), Klaus vom Bruch (Berlin), Nezaket Ekici (Berlin-Istanbul), Jakob Gautel (Paris), Hakan Kırdar (Izmir), Sıtkı Kösemen (Istanbul), Ulrike Rosenbach (Düsseldorf), Erdal Sezer (Çanakkale), Viron Erol Vert (Berlin)
Curators: Beral Madra, Seyhan Boztepe, Deniz Erbaş
Venues: BBK Kunst-Quartier ve Atelierhaus Wachsbleiche // Atelierhaus Nobbenburgerstr // Atelierhaus Martinistr m82 //Atelierhaus Heinrichstr
Based on the conceptual framework opened by the 3rd and 4th International Çanakkale Biennials, the exhibition aims at presenting a selection of artworks in the sister city of Osnabrück, which deals with the historical memory that determines the social and cultural fabric of the city of Canakkale. The exhibition "Canakkale-Osnabrück ArtWalk, Çanakkale Biennial: Fragments" brought together works based on the intersection of universal phenomena such as militarism, mythologies and micro-macro narratives, memorialization of history, with the original context of Çanakkale.
The exhibition is the fruit of the dialogue that started between BBK Osnabrück member artist Sylvia Lüdtke and the executive curator of Çanakkale Biennial Deniz Erbaş in 2013. Many institutions from the two cities collaborated to make it happen. BBK member artists opened their studios and workplaces to host the exhibition. This is the start of a long-lasting collaboration and solidarity between the art scenes of these twin cities.
The opening reception held at BBK Kunst-Quartier began with the presentation of BBK Osnabrück President Jens Radatz. Patricia Mersinger, cultural director of the Municipality of Osnabrück, expressed her satisfaction with the emphasis of peace in this exhibition held in osnabrück, and the strengthening of the bond of brotherhood and friendship between the two cities through art. Seyhan Boztepe, director of the International Çanakkale Biennial, spoke about the dialogue between the two cities through art, one of the most important tools for bringing the world's peoples closer together. Emphasizing that Osnabrück, the twin city of Canakkale, has a special place, Boztepe said that many years of artistic dialogue and cooperation have been strengthened by different projects. During the exhibition, guided tours to 5 exhibition venues were organized.